Surebet - Turn gambling into clever investment
Have you ever wondered if there is a way to bet on sports and win every time? There is no need to worry who will win the match any more, because there is a tool that will help you get profit no matter the outcome. If it sounds unbelievable, you should know that this tool is doing great job from 2006 and till now thousands of people are taking advantage of it.
Invest and profit average 20% every month
OddStorm users make from 10 to 30% profit every month. Even if you are beginner, at the moment you see how easy is to work with it and to make profit, it will be a matter of minutes to love it and join our team. We turn gambling into clever investment and the way to achieve it is called "surebet".
Mystery for Surebet Revealed
Surebets are an integral part of the world of Sports Arbitrage Betting.
Arbitrage is the financial term for a situation where you are buying and selling at the same time, the same asset in two different markets, in order to take advantage of the differing prices.
Sports arbitrage is almost the same, with the only difference that the different markets are two or more competing bookmakers and instead of buying and selling you are placing bets.
In a short interval the competing bookmakers offers odds differ enough to make all outcomes profitable. Thousands of these opportunities are raised every day. We catch each surebet and deliver it to our customers to take advantage and make sure profit.
Get the right Surebet tool to help you winning easily
Normally, without surebet service you have to scan dozens of bookmakers, thousands of odds every few seconds, compare them to each other and calculate if there is an arbitrage situation. OddStorm does it all for you and it is the fastest surebets delivery service on the market.
As these arbitrage situations exist only for a short time, speed is the most important requirement in arbitrage betting. There are many arbitrage services, but if you are using the fastest one you will see the arbitrage situations before the users of other services even know for its existence. You will be the first to know for the surebet and thanks to OddStorm auto navigation you will be the first who will place the bet before it disappears.
OddStorm AutoSurf tool navigates you straight to the betting event page with a single click and all you have to do is click "bet". It is so easy to use and being so customer-friendly and useful, makes it one of the most loved features by beginners and professional arbitrage investors.
Get Free Knowledge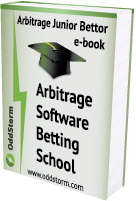 OddStorm have developed a training program especially made for its clients. You will learn everything for sports arbitrage betting, how to use the fastest
surebet
delivery service – OddStorm and much more. All this with many video tutorials and text materials with hundreds of actual examples.
Free e-book is also what you will get just for signing in! OddStorm will always be there to help you through the process of reading and learning if there is something unclear.
Sign in for free and you will also have access to surebets from (-0,01) up to (1.10)% for training purposes. It is perfect for beginners and bonus hunters. It won't take you long to learn the basics and once you have go through it and convinced how much money you can make, for sure you will want to subscribe and get access to higher surebets and get your incomes to the next level. It will take you few days to cover the subscription, so imagine how much you can win for the rest time of your subscription.
Get started with Sports Arbitrage
If you are still interested there is just one more thing you have to do to start your arbing career.
Before that let's summarize why you should get started with Sports Arbitrage Investing:
Get profit from 10 to 30% or even more every month with just few hours every week
Get rid of bosses and work from home and for yourself. Internet and will to begin are the only requirements
Get 24/7 customer support while your process of learning
Get started for free (software, e-book and training course) as long as you want. There is nothing to lose
Start your arbing career now with the most user-friendly, functional, supported and fastest surebet delivery service on the market – OddStorm. Give it a try, there is nothing to lose!
Sign up for free and send e-mail to support@oddstorm.com (mentioning your OddStorm username) to receive your free e-book or sign in for free at the Arbitrage Guides training program and go through the free course and articles. Download OddStorm, choose your subscription plan and maximize your incomes with the global surebets delivery leader!
May the odds be ever in your favor!